I had a lot of fun at this race, but I'm definitely disappointed with the outcome.
The race was really well done and organized and the location was fantastic. There was an option for packet pick-up on the Saturday, but I opted to wait for race morning, because I didn't feel like driving across two whole cities to get it.
I got to Bronte Creek Provincial Park early on Saturday morning to avoid the line-ups for packet pick-up and I'm glad I did. There was a bit of chaos as to collecting bags, numbers, etc. I waited in line for about 10 minutes, grabbed my stuff and headed back to the car to drop off the bag and pin on my number. I changed my tank top to a lighter one that I had in my bag because it was getting really warm.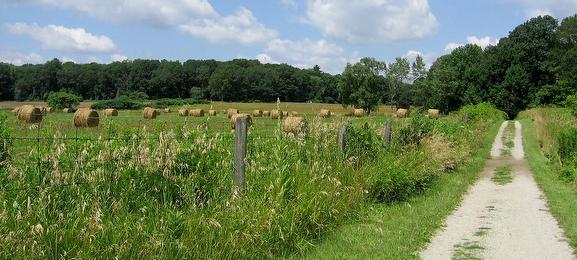 Bronte Creek Provincial Park (the type of trail we ran on)
I headed to the washrooms (not port-a-potties!) twice before lining up and I ran into my friend Vanessa (who told me about the race) and her friend Ashley. Ashley was running the 10K (a two-loop course) and Vanessa and I were doing the 5k. We started in corral B. There were two school groups 'running' so we decided to line up ahead of most of them since we figured they will walk a good chunk (we were right). The horn went and we were off.
The run was on a trail that was a mixture of packed dirt and some bigger chunks of gravel. It seemed well maintained though because there weren't any big holes and certain areas were more packed than others, so I stuck to those parts. I was right about the students and often got stuck behind lines of them or those that were running and then would stop dead in front of me so I'd have to swerve. There was a water station at 1k, which I ran through but it cleared out a lot of the students so it worked well.
My first split was 6:03 and I was hoping to hold onto that pace. Unfortunately, that didn't happen. I hit a cramp into the second km that I worked out by running a little slower and focusing my breathing, but the third km was sooo slow. I ran 6:44 (of course I didn't know this because my Forerunner 10 doesn't tell me the pace until the end of the km).


I picked it up for the 5 and ran in with an official time of 32:29. My watch said 32:06. I think the chip timing was not working because there was no gun time and chip time. We definitely didn't start at the start line so there should have been at least some seconds taken off. I'm sticking with my watching time.
Either way, I'm not happy with either time. I was hoping for a personal best since I have been running so well lately, but nope, it wasn't to be. I guess I'll have to wait to get my next personal best in the 5k.
The medal was cute, the post food drinks and food were great (Timbits, timbits and more timbits!) and there was a nice place to sit and wait for Vanessa and Ashley to come in. I'll definitely do this one again at some point.
Mmmm...timbits!