I'm linking up at
Eat, Run, Pray DC
,
Mar on the Run
and
You Signed up for What?
for Friday Five! Today we're talking about the five brands we love! I really don't have that many brands that I really, really love. I have bits and pieces for my running clothes, but there are definitely a few that stand out.
1. Saucony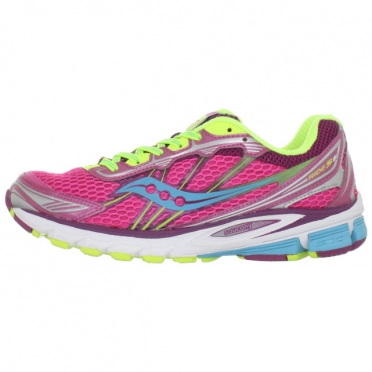 I've only run in two pairs of shoes and both have been Saucony Ride 5s. When I started running, I went to my local running store and had everything 'professionally' analyzed. They recommended a certain type of shoe and when I looked at the giant wall with all the shoes I like the bright pink ones the best, so I went with them. I grabbed another pair of them at the Saucony outlet store nearby.
2.
Old Navy
At lot of my workout/running clothes (and regular clothes actually) are Old Navy. They aren't necessarily high performance, but neither am I. The price point is perfect for this working mom of two boys who are still in daycare. I like the colours that are offered but again, the price to me is the important thing. I wear most of my regular clothes from there because they are comfy, good price, last a long time and are machine washable!
3. Under Armour
I just love the look of their stuff! I have a pair of workout shoes and lots of tanks from there and love them all! The price isn't favourable to me all the time, but I hit up the outlet every once in awhile.
4. Birkenstocks
Love me my Birks! I love the feeling in my arch every time I put them on. I live in my Birks all summer! They were perfect when I was pregnant too because as my feet swelled I was able to loosen them to fit my feet properly.
5.
Nike
Can't say I'm a
huge
fan, but I do like their stuff. They have really neat patterns and colours right now but again, the price is the big issue for me. It's another outlet shop for me since I can rarely afford to grab their stuff at full price.
What brands do you love?
Another other lower price brands you like?