Last week was a week of relaxation!
It was absolutely glorious. I took naps, I read my book, I watched sooo much TV and I went shopping. I did make it to the gym one day and I did get out to run so I'll take that. However, the healthy eating went down the drain quite quickly! I took the opportunity to eat out for lunch, Starbucks in the morning after dropping the boys off. It was heaven!
Now, I need to get back to work.
Here was last week's plan:
Monday:
5K (outside) -
did 4k instead (close-enough)
Tuesday:
Abs & push-ups
-

napped
Wednesday:
Weights and a 2 mile treadmill run
-

weights and a 0.2 m treadmill run
Thursday:
Hopefully into the pool! -
no pool
Friday:
Rest -
did I ever!
Sunday:
Raptors game (with a 4 year old so not really a break!) -
enjoyed that!
So as you can see, I was hit and miss last week. After my weight training on Wednesday, my legs were like Jello. I couldn't get my 2 miles done on the treadmill. Too much jiggling. Forget Thursday and by the time Friday came, my legs were still sore from squats and lunges that there was no running.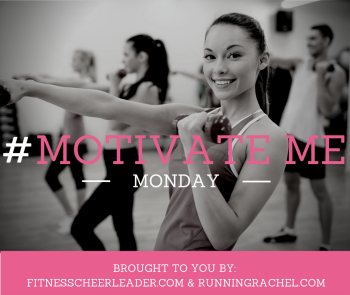 This week, I'm focused on eating better. Back to tracking everything on
MyFitnessPa
l (vmackasey if you want to follow along) and back to less snacking and making better choices.
I don't really have a workout plan for this week. My mind can't really put one together for some reason. I'm trying to focus on getting things together for the remainder of the school year and trying to get myself back into the groove of work. So, instead of laying out a plan, check back next Monday to see exactly what I did (or didn't do).
I do have my first 5K of the year on Sunday, so we'll see how that goes!
I'm linking up with
Janice at Fitness Cheerleader
and
Rachel at Running Rachel
for #MotivateMe Monday! Share your plans for the week there too!
Hope you have a great week!