I've determined that being a full-time working mom/full-day kindergarten teacher is exhausting!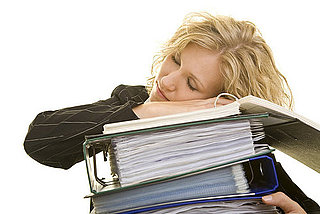 What I feel like at the end of a day!
The two whiny, completely dependent and snotty nosed kiddies that I have at home jump up to 28 when I get to work! Now that we've entered into the colder weather, we've started having to zip coats and put on mitts and it's so much work!
A couple weeks ago, the boys were sick. It wasn't pretty. There was lots of laundry being done. However, they slept through the night and The Husband and I took turns taking days off so neither of us were burning through things quickly and we were both fairly well rested.
This week, we've entered into a new realm of exhaustion! Joseph has started waking up with nightmares more often. Two nights ago, it was an alligator. Last night, there was a monster in his room. Andrew, who normally sleeps from 7:15 until I get in to get him at 6:30 in the morning for daycare has been getting up once or twice a night and stays awake! I've tried to ignore them but it doesn't work.
We didn't get through daylight savings unscathed either. Andrew was up at 5:30 and decided it was time to go for the day.
I have parent teacher interviews tomorrow night and then I don't have to go to work on Friday. It's officially a 'me' day! On the docket, shopping, lunch with a friend, Costco and a nap.
Do you think my Kindergarten kids would mind if we had nap time tomorrow?
Any strategies for making life easier??