On Saturday, I ran in the Oasis Zoo Run at the Toronto Zoo.
I had a good time, but man was I soaked.
It was rain, rain and more rain. I'm talking, 80%, 90% chance of rain, not just the usual 40% or 60%.
Anyway, The Husband decided to come out to the race, even though it was raining, because we know the rain doesn't bother Joseph and he loves the zoo enough that he'd probably overlook it. Turns out we were right.
We got to the zoo after the 10K started so there was a bit of a wait getting into the parking lot and finding a spot. We unloaded the boys, left their dry clothes in the car and headed to the entrance.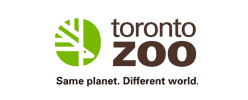 As soon as we turned, I stepped into a gigantic puddle. Well, the idea of my feet getting wet and having to run in wet feet was quickly shot down. They were soaked and there was no turning back from there.
I picked up my race kit (nice and easy), pinned on my bib and headed into the zoo. The boys and The Husband brought me to the crowd of the starting line, wished me good luck and headed off to see the Giant Pandas (an indoor exhibit).
Looking at my bib, I was placed in the Yellow corral.
I walked past the purple, then past the green and then into the blue. Thinking it was yellow I was beginning to question why I was so close to the front. That's when a nice older lady pointed out that I still needed to move up a corral. Huh?? That's the second wave! There's no way I'm up there. Turns out I was and I'm still not sure why.
Anyway, the first wave went off, we started 4 minutes after them and from there it was one rainy blur of uphills, downhills, animals, strollers, walkers and really speedy runners. I honestly couldn't tell you what the course looked like because it was all in and out and up and down. Here's what the race website gave us. If you can make sense of it let me know.
I just remember keeping my head down so I didn't get rain in my eyes and running as hard as I could.
I ran until the water/Gatorade station (about 3.5km in), had a quick walk break while drinking my Gatorade and then picked up the running again. I stopped to walk again around 4k when my
ITBS started to flare up
a bit. I also knew there was a gigantic hill at the end so I wanted to save my knee for that as well.
I finished in a time of 33:54. Not my greatest 5K time, but I think that with the rain and the hills I did fairly well. I was really concerned I wasn't going to be able to participate at all because of my knee but it held up well. I'm hoping that it means good things for my half marathon training.
Next up, the
CIBC Run for the Cure
on October 6th, with my
Momstown
posse! Then the Niagara Half Marathon on October 27th.