It was another exciting weekend here at our house!
Friday night, my Mom, Andrew and I headed out to the Creativ Festival, which is literally like my Christmas! It's all about quilting, sewing, knitting, crocheting and scrapbooking. They have a show twice a year, once in the fall and once in the spring and I literally save up and count down on the calendar.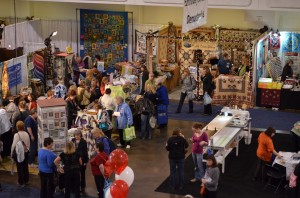 The fall show is definitely bigger and Christmas focused but I love both of them!
On Saturday, I had gotten tickets to take Joseph to see a live show called Toopy and Binoo and the Marshmallow Moon. Toopy and Binoo are a cartoon about a mouse (Toopy) and his stuffed cat (Binoo) and all their crazy, little adventures. Joseph loves this show when it's on TV so I figured may as well try it for his first live show!

We dropped Andrew off with my sister and her boyfriend, parked at their place (yay for free parking) and then walked to the theatre. Joseph sat on The Husband's lap and was thoroughly enthralled during the entire show.
During intermission, I bravely headed out and bought him a stuffed animal called "Patchy Patch" which is what Binoo carries around with him. The darn thing cost me $35!!! However, I must say it was worth it because it hasn't left his sight since he got it yesterday. It has joined his 'entourage' of his blanket and Blue.
On Sunday, I also headed to the track to try out my shins. I did alright.
5K in 35:44 min
. Not great, but I'm happy I lasted it with everything I have
gone through with my shins.
The only crappy part was running on the track. There was a soccer game in progress on the field and the parents took over the track! Two mothers actually set up lawn chairs
in
the lane that I had been running in. It was ridiculous!!!! I'm not looking forward to running on the track in the future, but it's definitely nicer on my shins.
What did you get up to on the weekend?? Now that the weather is getting nicer are you getting out more??
If I were to set up a fitness/nutrition link up once a week, would anyone be interested in joining??? It wouldn't be a weigh in per say, just sharing tips, recipes etc.