I'm linking up over at Growing up Geeky for Toddle Along Tuesday. This week's topic:
Your child's favourite toys!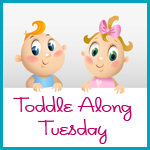 As I've said many times before, J is definitely a 'boys' boy' meaning he loves his trucks, cars, etc. Too be honest, we don't have a lot of "girl" toys in the house, but my parents have some at theirs and he still goes towards the cars and garages. And I'm fine with it. I'm going to let him play with what he wants to play with.
Here are a few of the toys he really likes right now.
The old Fisher Price garage:
He hasn't figured out quite how the elevator part works, but he loves sending the cars down the ramp and under the parking garage. He spends lots of time with this during the day.
Anything Thomas or Thomas related
We've spent many hours at the bookstore playing with the trains. I've learned to go choose what I want to buy, then head to the kids area. I was hoping to have enough space for a train table this Christmas, but I don't think it's happening.
My Pal Scout
J has suddenly become very interesting in Scout. He got him last year for Christmas and pretty much ignored him until about 2 weeks ago. It still has Christmas carols on it! No point in changing it now though.
Books
I'm so happy that right now J loves reading. He'll bring books over to you to read and The Husband always reads one to him before bed. Right now, his favourite "Five Little Pumpkins" and he'll ask for it by saying pumpkin over and over again.
What toys are your little ones into right now? I'm excited to see what the other toddlers are playing with so that I can start to create a Christmas list for J! I'm stuck as to what to get him and of course with a birthday right after I'm needing to get some extra gifts!