Yay! I'm the co-host of Toddle Along Tuesday!
I love cooking, but I hate it at the same time. If we could cook dinners in the morning, when I have a ton of energy then I'd definitely be a gourmet chef! However, by the time dinner rolls around I'm exhausted and want something quick, easy and tasty. In comes my chili!
I love it because it's healthy, there's little prep work, it can be made in the slow-cooker or on the stove-top and there are usually leftovers for days! Also, you can add other ingredients or take some away depending on your personal tastes. For example, The Husband usually adds lots of chili powder and has been known to add corn and mushrooms to his bowl after he's served it.
Ingredients
- lean ground beef
- 1 red pepper chopped
- 1green pepper chopped
- onion
-1 can red kidney beans
-1 can brown beans in tomato sauce
-1 can diced tomatos
-1 can tomato sauce
-chili powder
Directions
Cut up the peppers and onion and brown the ground beef. If you want you can brown the onion before, but I find in the slow-cooker the juices get into the onion and soften them that way. Combine all ingredients in the slow-cooker. Add as much or as little chili powder as you would like and stir. Cook on low for 8 hours.

For the stove-top, brown the beef, add the remainder of the ingredients and let simmer on the stove-top for about an hour.
Notes
For the slow cooker version, I brown the beef the night before, drain it and put it in the fridge. I cut up all my peppers and onions, place them in a container and put them in the fridge. If I'm doing it on the stove-top, I don't drain the beef. I find the little bit of extra fat makes it that much yummier!
We also have rolls, an Italian loaf or fresh baked bread machine bread with it.
Just thinking about it is getting me excited for the cooler weather to come!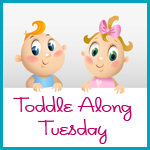 This week's Toddle Along Tuesday topic is easy go-to meals! Melissa and I are due just a few days apart and are looking for some quick & easy recipes we can make when baby is here. There are no rules here, except that you link up a relevant post (old or new) rather than your whole blog.