Today's TAT is 'Your Favourite Baby Item'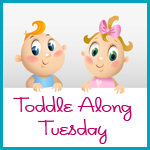 Actually, I don't really have one specific thing. Instead, I currently have a couple of things that I'm so excited to try out!
The first is my Baby K'Tan carrier that I won in a giveaway from
The Not-So-Secret Confessions of a Second Time Mom awhile ago.
I didn't wear J a lot. In fact it was only once or twice in a Baby Bjorn, but I figure I'm going to need my hands a little more in order to keep J happy and occupied so I'm really going to find a way to use this on a daily basis. We're going to try it out a lot when The Husband is home for the first little bit so that I get used to putting Baby Boy #2 into and out of it before I try it on my own.
My 2nd item that I can't wait to try out is my new stroller! We did go with the BabyTrend Ultra, which we got at a great price due to a sale and gift cards.
I really have no idea why I'm so excited to use this but I am! J is going to be sitting in the front until Baby Boy #2 is ready to sit at the front, but J will probably be walking most of the time anyway. It's still sitting in the box and The Husband will be putting it together sometime soon-ish. We won't need it for awhile so it's fine.
Lastly, I can't wait to wrap up Baby Boy #2 in the blanket that I made him.
If you want to see the tutorial click
here
!